[ezcol_2third]
The Brief – was to complete a design build package with the contractor to bring the project down from $22 million to a new Budget – $11million.

Hill Majurey Architects Limited completed this project. Peter & I were project architects as an Australian architect had designed the building. Our role was to redesign the project to bring it in on time & budget. This was an exciting project, which consisted of a 1200 seat Auditorium, Museum & Library buildings with a gatehouse & covered walkways. As you can see a beautiful series of buildings was achieved, note the edge detailing & the use of no gutters.
Please click images for slideshow.
[/ezcol_2third]
[ezcol_1third_end]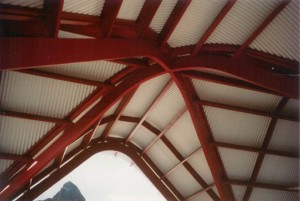 " The project also had to be open for the Six Pacific Festival of the Arts & it opened on time with Prince Edward opening the building. We did this very successfully.
"
[/ezcol_1third_end]