[ezcol_2third]
26 Seaview Road, Remuera Auckland – Developer Client – completed by a Residential Client

The Brief – to renovate a severely fire-damaged villa in Remuera to an executive residential home of a value of $4.6million. Construction cost $1,400,000.
The home has been renovated from a 4 bedroom, two bathroom, 3 fire places & double garage to a 5 bedroom, 4 bathroom, home theatre & three car garage with 4 interior fire places & a large swimming pool area & beautiful landscaped grounds.
Please click images for slideshow.
[/ezcol_2third]
[ezcol_1third_end]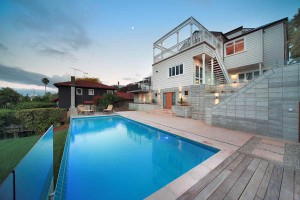 "The project is almost complete September 2011. This will truly be an executive residential home on a full 1000m2 section in Seaview Road, Remuera. "
[/ezcol_1third_end]