East Tamaki Auckland –
[ezcol_2third]
The Brief – was to complete a design Tavern, Service Station & Retails complex for the site replacing the old existing East Tamaki Tavern. Budget – $10 million.
Evolution Architects Limited completed this project. Karl designed a unique building – a cube plan with a box gutter running diagonally through the building with two curved rooves springing from the gutter. This gave the building a pacific feel, which reflected the Polynesian culture of the area.
Please click images for slideshow.
[/ezcol_2third]
[ezcol_1third_end]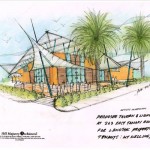 "I was truly excited when this building was completed as it represented a lot of design concepts from my pacific island travels."
[/ezcol_1third_end]