[ezcol_2third]
The Brief – was to design a Resort with Administration Buildings, Restaurants, Recreation Buildings, Pool Bar, Tennis Courts, Pools, Bure's & Hotel blocks Budget – $100 million.

Hill Majurey Architects Limited completed this project. Karl designed the building through to sketch plan stage. A truly beautiful resort was designed however the project did not proceed.
Please click images for slideshow.
[/ezcol_2third]
[ezcol_1third_end]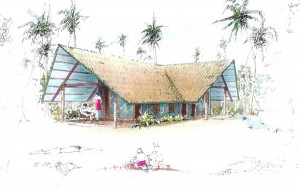 "Karl designed the building through to sketch plan stage"
[/ezcol_1third_end]