[ezcol_2third]
The Brief – was to design a car park building next to the main Saatchi & Saatchi building to service the tenants of that building (153 Car parks).
Budget – $2.5 million
Evolution Architects Limited completed this project. Karl designed the building through to completion. A unique building was created that met the needs of the client. Two stairs were designed as a Yin & Yang concept positive closed in stair negative open stair at the same time the enclosed stair was to look like a lantern at night when lite up. The bridge was designed like a container jammed between two buildings with the construction joint in the center to add uniqueness.
Please click images for slideshow.
[/ezcol_2third]
[ezcol_1third_end]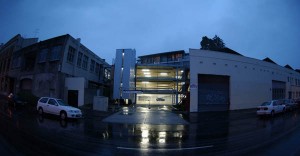 "Strand Holdings Limited was a great client to work for."
[/ezcol_1third_end]