[ezcol_2third]
Karl assisted Stuart Huggett with the project while working on contract to Architects Pacific. This gave me a unique chance to work on a project of this scale, which is simply the sum of the body of work that I have experience in all put into one project. It was exciting & stressful at the same time. I got to travel to China & meet & work with the client first hand. Unfortunately the client proceeded with other Architects on this project. However Stuart still has a working relationship with them on other projects to this day.
Please click images for slideshow.
[/ezcol_2third]
[ezcol_1third_end]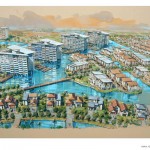 "The Brief – to design a multi residential use village.
Budget – Unknown in the billions
Architects Pacific were the architects – "
[/ezcol_1third_end]